Hello everybody and welcome to this week's edition of Fridays Letters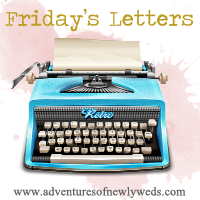 Dear ABC Pretty Little Liars,
I await your summer premiere eagerly! I can't wait to see if Alison really does have a twin, and how can I forget, Ezria (Aria+Ezra). Oh and Tobencer (Toby+Spencer)...too much? :-)

Dear New Neighbors,
Please be good neighbors, please don't come with drama and noise. If possible, please have a cute 20-something year old son who I can, you know, exchange ideas with and talk about our two religions (Christian/Muslim) It'll be fun exchanging ideas with a **ahem** cute neighbor once in a while :-)
Dear Steffany Frizzell,
Please stop making me cry with sweet worship songs like this

P.S, I love this comment someone left: Steffany and Jenn are two of the few true worship leaders that lead by example, most are entertainers. If the song/video were all about her, she would have been staring straight into the camera or at least those who were there. She (as seen in this video) is and example of how we should worship. Forget those around you, it's between you and Him. Close your eyes, forget those around you and give Him all you have to give.
Dear Brother,
Will you please return the car's sub-woofer's, driving is just not the same without my speakers!
Dear Future Hubby,
After we're married, we need to be going camping or do those couples retreats where there are challenges like hiking and whatnot. #bondingexperiences that'll be fun. Hope you'll be up for it. As usual, I'll love you and adore you always!
Dear Bloggers,
Ya'll are awesome, I learn so much from you guys!

Dear Worship Team,

It's been 2 weeks since my audition, still no news. I caved and called up the leaders and they said, relax and not to worry...is that a good sign or a bad sign, like, "relax, just get on with the rest of your life" :-/ :-/ :-/ :-/ whop whop


Dear MomDoesn't always feel like it, and I hope to change that, but I am SO incredibly thankful for all that you do for me. Not many people have the same opportunities, family environment, material things even that I have. You've given so much and struggled so much for me and I feel guilty that I don't in any way deserve it, but it's only from your love for me. Thank you for modeling what parenthood is to me. God Bless you incredibly forever mom. I love you sooo much.Dear God, Thank you for speaking to me through Pastor M's sermon this past Sunday. Please help me stick to this month's prayer and fasting schedule and let huge breakthroughs happen at Mavuno Church to help us become the leaders you called us to be. Also, let there be some clarity on the whole career-switch, going back to school thing. Thank you mostly for your grace. Lord, I mess up constantly, I struggle choosing you. Thank you for helping me realize, any negative thought I have about myself...I'm a loser, I can't stick to anything etc. depression, fatigue, anger...those aren't my thoughts, most importantly those aren't your thoughts about me! Thank you for your grace and strength over my life.
Dear Jesus,
Thank you for winning (FOR) my life. Thank you for taking my tiny insignificant little attempts at prayer and worship and turning them into something incredible, high praise in heaven's courts, right? Thank you for showing up and drawing near during worship. You're Awesome! You rock and I love you sooo much!
Dear Holy Spirit,
You are my strength. You are sweet yet powerful...I'm still getting used to the sweet part, not so much the powerful, but either way, You make everything better, you make me RE-JOY-ce...(have joy over and over again)
Lovingly YoursJo