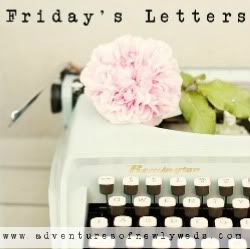 It's been awhile since I've done one of these! If you're here for the 1st time from the link-up, bienvenue, welcome, welcome, welcome, feel at home or as we say here in Nairobi,
"Karibuni"
look around, grab a button if you'd like, follow and join my adventures and lets have fun.
Moving on:
Dear Week,
I am glad to see the end of you! Laundry's done, house is cleaned, I'm ready for some rest!
Dear Church
,
I'll be on stage leading
(background-ing as it were)
worship for the 1st time from next week, please go easy on me, I'm still new! :-)
Dear Music,
I'm loving you more each day, writing you, hearing you, singing you, and looking forward to Saturday's vocal training classes.
Dear School,
You've stressed me out this week, ridiculously! But, also learning a lot of life lessons from you.
Dear Mom,
Thanks for being there for me to love on!
Dear Sister,
I miss you, that's why I called you, not for my letter!
Dear God,
Can't fail to see your provision this week, from mom offering to buy me a 2000/= dress, to her not freaking out on me about the school thing, to finding good deals on clothes. Yes!
Dear Nerd,
Thanks for treating me to lunch, I totally needed that after the week I had...pasta and ice cream makes me so happy!!!!
Dear Future,
Applications have been made, my part is done, now all we can do is wait on God to show up and provide!
Finally, to you my elusive man who I'm yet to meet...
xx
Jo